Date of birth:
1986-05-01
Place of birth:
Banda Aceh, Indonesia
Education History:
2014 - Current PhD Candidate Department of Cultural Anthropology and Development Studies Radboud Universiteit Nijmegen, The Netherlands. 2008 – 2010 Masters in Environmental management and sustainable development Department of Geography University of Queensland 2003 – 2007 Bachelor of Science (Biology) Department of Science University Sains Malaysia
Organisation you work for:
Forest Nature and Environment Aceh (Yayasan HAkA)
Position title:
Chairperson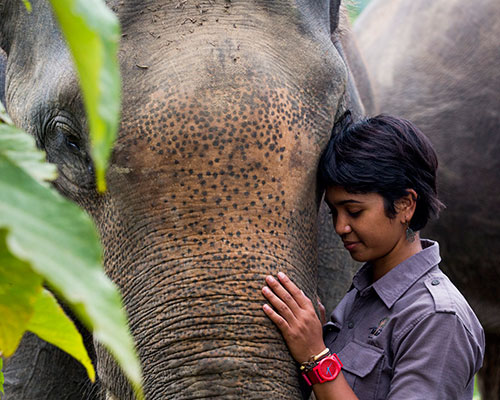 How did you get into the work you do presently?
I have always wanted to work in conservation, I just didn't know how when I was growing up. After graduating in Marine biology from University Sains Malaysia, I was looking for a job in the conservation sector. Unfortunately finding a conservation job for a fresh graduate is extremely tough. Given the challenges and my persistence, I decided to further my study and I gained my Masters degree. I then landed my first conservation job with a government agency who manage and protect the Leuser Ecosystem in Sumatra. That was nine years ago and the rest is history!
Describe the main aspects of your work:
When we established our organization in 2012 we were pretty adamant that our conservation work should be inclusive of the local communities. We believe in strengthening civil society and empowering communities living on the frontlines of conservation work. Since then, I am happy to report that we stay true to our roots; we have launched multiple campaigns with grassroots environmental leaders and continue to strengthen our collective voice from the ground up! The main aspect of my own work has ranged from contributing towards the strategic direction of the organizations, as well as managing the day to day campaigns that our organization is currently running.
What do you like best about your job?
This is the job I love! I like every part of it. I like how I look forward to Monday and often don't realise that it's already Friday – but more than anything, what I like the most about this job is seeing our team and partners grow, when we see the local community groups we partner with grow from strength to strength, expanding in their conservation and restoration initiative, make my heart elated and I feel that we're really making a difference there! Also seeing our team members who join us when they're young and inexperienced, then over time seeing how they shine in the work and finding their passion through this process is one of the most rewarding aspect of my job.